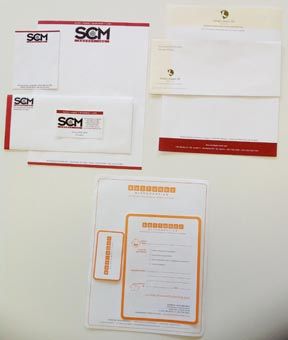 Imaging Zone is your source for producing branded business identity components. The following are the basic ones:
Just about every business has a need for branded business cards for presentation to clients/vendors/professional use. Also, branded letterhead is used for formal professional communication and is paired with a branded envelope. When packages are sent, branded labels are used. All these items are offset printed on a specific paper stock that the designer specified and approved by the business management.
Business cards are typically 2"x3.5" and are printed either 1-sided or 2-sided. On occasion, they are printed double sided as a 4"x3.5" and then folded in the middle.
Letterheads are typically 1-sided and on occasion, they are ordered with a second sheet, which has less information than the main letterhead sheet, or even blank.
Envelopes are typically referred to as #10 envelopes and are printed either 1-sided or 2-sided (printing on the front and flap). #10 Envelopes typically do not bleed, however, if they do bleed, then they are printed on flat sheets and then converted to an envelope.
Mailing Labels can be of any size, however, the most common is a 4" x 3 1/3" 6-up on an 8 1/2" x 11" sheet, so that the address of recipients can be overprinted in a standard laser/inkjet printer.